Q) Is The Stable for me?
A) Quite probably
Hello one, hello all. The Stable Creative Hub, Weston's coworking space, has been around almost a year now. Our next event is a Weston Tech experience centred around AI (Artificial Intelligence) this Thursday 13 Sep from 7pm, and our first birthday party is coming up soon; you're all invited to register on Eventbrite for your ticket. So what is The Stable? Well, news of our existence is trickling out and around in some weird and wonderful ways which is great but I've also overheard some slightly off-key info being shared about what The Stable is (that it's just for techies, or it's just for online creatives - it's much broader than that), so I just wanted to make sure that what The Stable is, and who it's for, is a bit more obvious. Clear as mud?! En bref, it's for most people because the building has several different uses, and if you work at a computer or organise stuff in rooms, it's very probably for you at least some of the time too. Want more detail? Read on.
It's for people working on digi, tech or creative things online
Don't immediately think 'that's not me'. You mightn't be thinking laterally enough. I've just had a tech-loving app developing social media doyenne tell me she didn't think she ticked the right boxes to work from The Stable. Seriously?! It really is for her. A quick phone call later and we're looking forward to her coming in soon to work. So, the background. The funding for The Stable came from the Local Enterprise Partnership to help attract, nurture and grow the region's digital, tech and creative sectors. If you work at a laptop and do pretty much anything digitally or related to the digital, technology or creative worlds, you can very probably join The Stable as a member. If you work in a totally unrelated field, tourism say, but the bit of the job that you do is done digitally, that's also relevant. Our core membership, to fulfil the LEP's stated funding aims, needs to come from the digital, tech and creative fields, but we're flexible. Come talk to us. You'll probably fit right in and even if you decide it's not for you, there are lots of other ways in which Weston's coworking hub might be able to benefit you and your business - and vice versa - or you might know a friend to whom it's more suited.
It's for people who need desk-space
If you're not from the digital, tech or creative worlds, but you work online, you are welcome to come to use The Stable using a Day Pass. Bring your laptop and leads, we'll do the rest. We've had all different types of people in from project managers working remotely, to digital nomads passing through en route to Kiev, to small business accountants, to prominent Weston business folk needing to escape the summer holiday madness at home. If you are someone who needs a desk every now and again, try a free day at The Stable and then consider using us on an ad hoc Day Pass basis. It's amazing how much more you get done when you've consciously left the house and paid to be somewhere to get the work done. You get the work done. £15 + VAT per day including superfast wifi and great coffee.
It's for small businesses
If you run or are part of a small business, The Stable is here for you in many ways (also see the Intangibles, below). Firstly, you can come to use us on a 'desk-space' basis, by either taking a flexible monthly membership or by using Day Passes. Secondly, you and your team might like to be here on a 'Permanent Desk' basis. This is one step up from a membership and means that you each get your own desk and a lockable cabinet beneath so you can leave stuff here. There are loads of small rooms and booths to step into should you need meeting rooms, private space or to make lots of Skype calls. Thirdly, we have small offices to rent from £30pm2 per calendar month plus VAT. Our smallest offices are 8m2 and they go up to 35m2, with 400m2 more space coming as part of our Phase Two refurb. See Eventbrite for our October 11 event which reveals the new space. Look at our rooms, here.
It's for event managers and people running courses
The Stable has had Google, Bristol's Watershed, the NHS, North Somerset Council, Weston's Business Ambassadors, the Arts Council for England and many other organisations run workshops, courses and meetings here. Recruiters too like our variety of rooms and often rent a few at a time to meet, greet and interview clients in. Our meeting rooms start from £15 per hour/ £40 per half day/ £60 per day plus VAT for a small office (8 to 12m2 or roughly two to four people) with the larger ones renting for £40 per hour/ £100 per half day/ £150 per day plus VAT (30-35m2 or roughly for eight to 20 people). We've got a large Loft too that can cater for up to 80 people in the evenings, get in touch for a quote. To make things even easier, you can use our real-time online Find a Room page to check room availability and costs for your prospective event or meeting without even needing to get in touch with us direct.
It's for busy people organising catered meetings
The Stable has a breakfast meeting package, lunch packages, and occasion cake contacts and can organise everything for you. If you're busy, leave it to us. We host regular breakfasts for regional business networks and can cater for upwards of 50 people at once if need be. Breakfast meeting catering is around £5-£6+VAT pp for hot drinks, fruit juice and a pastry selection, with a typical lunch buffet being around £8pp (can go up or down depending on what you require). We use local suppliers where we can and love the food from The Heritage Cafe next door, Leslie and Paul at The Food Den, and Blueberries catering.
It's for you if you want to start or grow a business
If you are at the early stages of wanting to start a business, The Stable is a great place to come. It runs workshops, courses and gatherings for people interested in different things, from tech to creative enterprises, many of which are free to attend. You'll also meet and become aware of other social, funding or training opportunities that you might not otherwise be aware of. It's a bit of a melting pot of all things startup and small business related in Weston and beyond. Check out our Events here and our current members here.
Creative groups meet here
The Stable founded the Weston Creatives group, which has a growing online and actual presence, in an effort to galvanise and bring together people from across Weston's thriving creative scene. It's got some awesome regulars and event co-hosts already, with new people turning up at each new event. We hope that social antics, new splinter groups, collaborations and creative activities might start to happen as a result and early signs are looking positive. Members at The Stable currently include a graphic designer, a photographer, a writer, a writing coach, a copywriter and a media creator, many of whom attend the Meetups, so there are already in-house creative folk to chat to if you want advice or tips on that front. The Stable was a venue for several events at Weston's first Literary Festival in 2018; it looks set to have Lit Fest Fringe events happening here in 2019, too.
Tech groups meet here
The Stable also founded and runs the Weston Tech social and events Meetup group, whose events are to be found on Meetup, on The Stable's Facebook page and again on our own Events page (links above). Larger places like Bristol have really active Meetup.com and tech scenes, and everyone who's come along to our formative Weston Tech nights – where we've talked about AI, tech for assistive technologies and, shortly, aeroponics – have also been really well attended with everyone saying how good it is not to have to travel to Bristol or beyond for such a gathering. We work closely with the brilliant TechSpark team who help to promote our events and share our news, as well as keeping us up-to-date on developments in the tech and tech jobs recruitment scene (speaking of which, two of our regular Day Passers run Women's Tech Founders, Women's Tech Jobs and the Women's Tech Hub, so if you're someone interested in such things, you know what to Google/ where to sometimes find them for a chat).
It's for makers (not primarily, admittedly, but sometimes)
The Stable is isn't a 'big and messy' space with artists' studios and sinks for clay, paint and such. It's essentially (though not solely as I think I've outlined) a digital hub for those in the digi, tech and online creative worlds. That isn't to say that creatives and makers can't use or benefit from being at The Stable. Rooms can be rented for certain kinds of workshops, courses or presentations. Sketching, drawing, making things, photography, talking about things, having meetings about potential arts events or collaborations, training, running courses for money – anything that can be done (relatively) quietly at a desk or in a rented meeting room or in our reception area out of hours is probably OK. We're also working really hard with regional partners such as the Network for Creative Enterprise who recently delivered a Jumpstart your Creative Business course for 15 local creatives. If you are a 'big and messy' type, then why not have your admin, social media or desk days at The Stable, to get away from studio mode and to put your office head on while you work on the computer-based side of your business. We also run Weston Creatives, see above, which you're welcome to come to.
One or two artistic types have mentioned to The Stable that 'everyone needs studio space, there's no studio space in Weston, can we have studio space at The Stable' etc. In setting up Weston Creatives I talked with local creatives, with local artistic venues such as The Quarry and the LT Gallery, Weston College and more, to promote this group and to find out where Weston's creatives might be and what they might need. A hope with this group was to help establish if there indeed is demand for studio space and for big and messy spaces, so that when opportunities for space arise for instance, there's a ready-made cohort of creatives and makers already established and ready to express demand and to help shape things (and to be first on the list for studio space etc!). From the outcomes of the last meetup, it looks like a big and messy space of this nature with space for up to 15 practitioners might be on the cards, join the group for updates on that. Look up Weston Creatives on Meetup, or Weston Freelancers on Facebook, or visit our own Events page to see what events are coming up or to discuss adding your own event to the schedule. Come for the social or come with an epic plan you want collaborators to help realise, it's totally up to you. It's an informal group and all suggestions for new venues, dates and meetup themes are welcomed.
The intangibles
We've outlined the tangible things that The Stable can offer you. What about the intangibles? If you seek camaraderie, others in the same boat, people who share your interests, access to up-to-the-minute info on funding, grant and advice for small businesses, good coffee, lovely tea, a great location and to be in a work-conducive atmosphere with other people of similar mind, try us out or attend an event.
The Stable is for YOU
Interested in a desk, Day Pass, meeting room or office? Come in and speak with us. Want to join Weston Creatives or Weston Tech? Look them up and go along to the bits that interest you. Like to speak at or run a gathering as part of either of these groups? Just get in touch with The Stable, either in person or on the 'phone, or message the Meetup admins via Meetup. It's about meeting local people who're doing interesting things, about sharing interests and experiences, and about exploring opportunities for collaboration - possibly bigger projects to help make Weston more awesome. Don't wait for the something you think Weston's missing to appear out of thin air: start it yourself, under the umbrella of an existing group if that makes sense or start your own Meetup. Feel free to get in touch to see if The Stable or members of Weston Creatives or Weston Tech can help.
As you've gathered from the above, it's highly likely that The Stable has something you could benefit from or, just as importantly, contribute to. Check out our blog for other things of interest or our Events page. Pop in for a tour, bring your laptop and stay to work for a trial day. You then might like a membership, to take an office, to pop in periodically, or just to be kept abreast of what's going on by joining our mailing list. The choice is yours. The Stable has a significant expansion project for 2019 where we will more than double in size so now is a great time to start to get involved. Our doors are always (figuratively) open and we look forward to showing you around and sharing a brew soon.
Celebrate!
As mentioned above, our birthday is coming up on 27 September 2018 and you're all invited to register on Eventbrite for your ticket to the party. If you're reading this pre 13 September, you could also come along to our free Weston Tech Meetup about Artificial Intelligence: Embrace the Machine that is Better than You, with Richard Norton.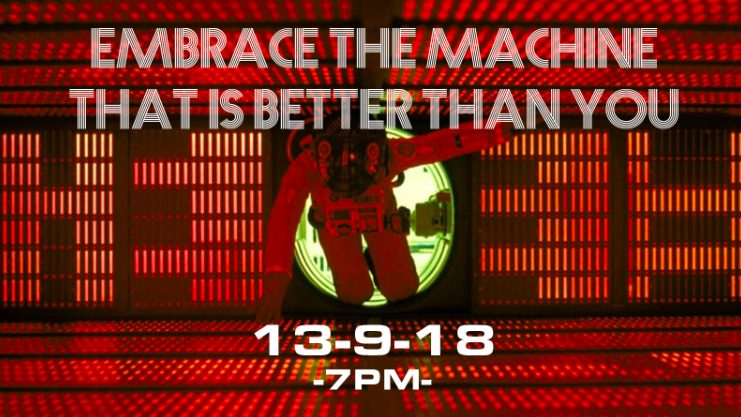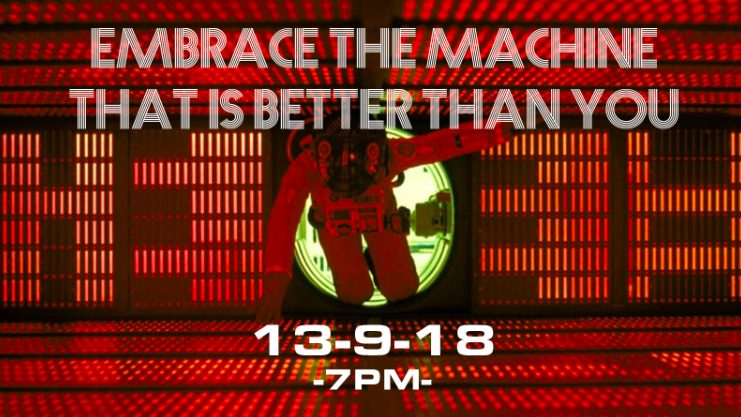 (So good I pasted the picture twice. Literally nothing I do behind the scenes will make one of the above images disappear. Twice is better than not at all!)