Great 2018 offers now live
Forget joining a gym for 2018 - join The Stable coworking hub instead! You'll never go to the gym anyway, jogging is free and Weston beach and its surrounding green areas are mere minutes away from most of us. So this New Year, focus on your business and become a member of The Stable instead. Give your work, your ideas, your start-up or your scale-up project the time and space it deserves to flourish, in the company of like-minded people. Or why not move your entire team here if you're already established? We have a very limited number of offices available and you can always take a section of a larger coworking room, booking discounted meeting rooms where required. See our seriously good offers further down this post, valid until the end of May.
Free calendar week's hot-desking
We're giving away a free calendar week's hot-desking to each of you at the moment (it's normally a free day) so you can come to try us out without any pressure, to see if you like it. The Stable is located in Wadham Street, next door to The Heritage cafe and just across from the Blakehay Theatre. We are one minute from Grove Park; the beach; the pedestrianised shopping centre; the town square and Italian Gardens; and lots of shops and cafes. I know working from home appeals sometimes but at The Stable, you'll get lovely warm rooms, super high-speed fibre broadband, free coffee and tea all day, and the chance to meet local folk in the same boat as you.
Amazing offers
As mentioned above, we are offering a free week's hot-desking to get more of you in to meet us and each other. Beyond that, we've created some fantastic membership deals that will be valid until end May 2018. If you snap up an annual deal within that time you will be saving a huge amount over the course of a year. With memberships starting from just £59 +VAT per calendar month and annual deals equating to just £5 odd per day, now really is the perfect time to make that move - out of your bedroom or home desk, out of local cafes with their bustle and distraction, out of that lonely office you're currently renting - and into The Stable (these offers are visible when you scroll down our home page).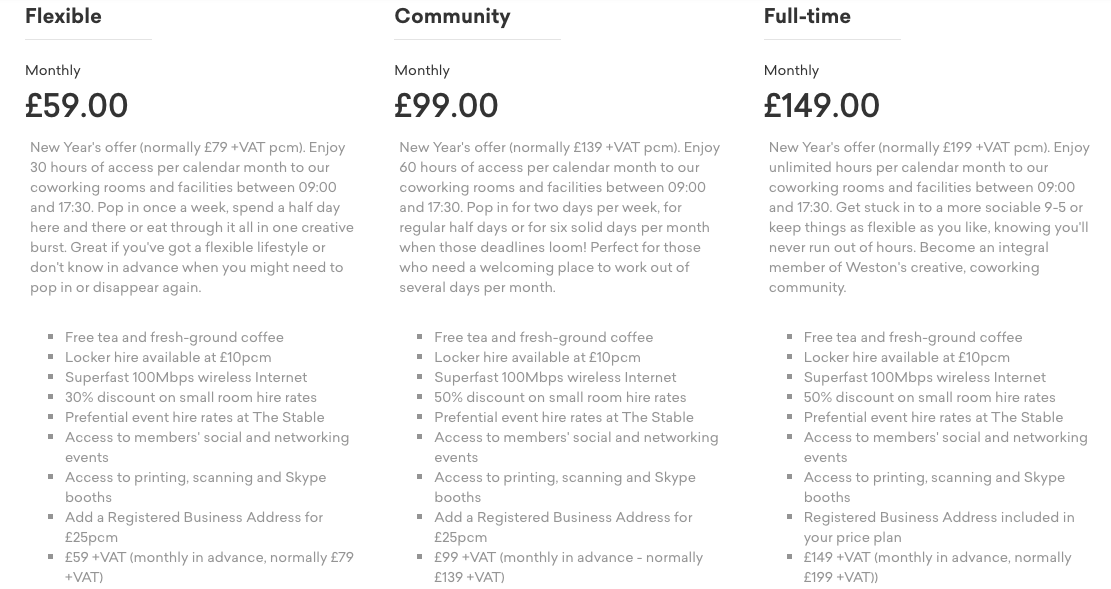 A productive and social working environment
When you work at The Stable, you'll get more done. No washing to put on, no family members or housemates to distract you, no errands to get sucked into. Just nice, big, bright, airy rooms, super comfy chairs, your own desk, lockers to hire if you need to pop out, and friendly staff to help. If you become a member, you can also register your business address here or simply receive your post here, and will get serious discounts on meeting room hire to welcome your guests and clients when they pop in for meetings and briefings. With other people and businesses around, plus many networking and business support events planned throughout 2018, The Stable is a great place for you and your business or start-up to flourish.
Questions?
Have a think, weigh it up and consider if Weston's new coworking hub is where you'd like to base yourself or your business from 2018. Not sure? Come in for a free week's trial until end May and don't forget to take advantage of our great membership offers while they last. Call for a chat on 01934 315 305 or email Reception today.